"The Swan silently crossed the river,
No reflection, not even a ripple…
And she looked deeply into my eyes asking 'Are you really, really ready?'
I nodded, as tears rained from my face"

Extract from the poem "Swan Song"
The South Essex Crematorium located at Corbets Tey, just outside of Upminster Town center, is perhaps known as one of the most familiar places for funerals, specifically cremations, in South Essex.  For quite a while, it was the only crematorium in the area, having been built in 1957.  It comprises 2 chapels; South and East.  The gardens, which extend right back past the building, are delightful and lead down to a large pond with bridges.  Even as a place to simply contemplate and remember, it is serene and peaceful, despite being one of the busiest crematoriums in the United Kingdom.  All of the pictures here for South Essex Crematorium were taken by me.
You can find out more about the South Essex Crematorium, as well as see more pictures on their brilliant, new website here.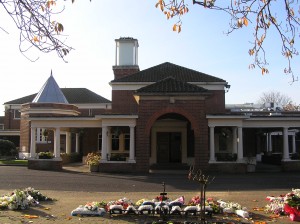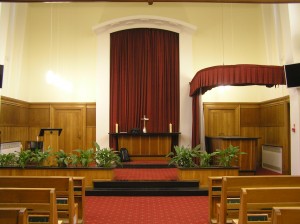 The South is the larger of the two chapels at South Essex Crematorium, and has the ability to seat approximately 120 people in a two level arrangement.  In the South Chapel, you also have the option to have a moving image tribute to your loved one.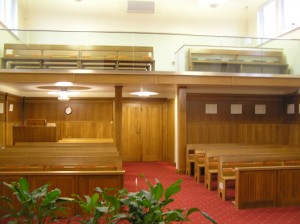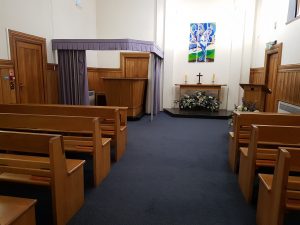 The East Chapel at South Essex Crematorium is for smaller, more intimate funerals and has a seating capacity of approximately 40.  However, there is no facility to have a moving image tribute in the East Chapel.
Forest Park Crematorium is one of the newest crematoria in South Essex, located just near to Hainault Forest Country Park between Collier Row and Chigwell.  It's currently just about 12 years old and has one Ceremony Hall, which is quite large.  You can find more pictures of the grounds, and also of the interior of the Ceremony Hall here .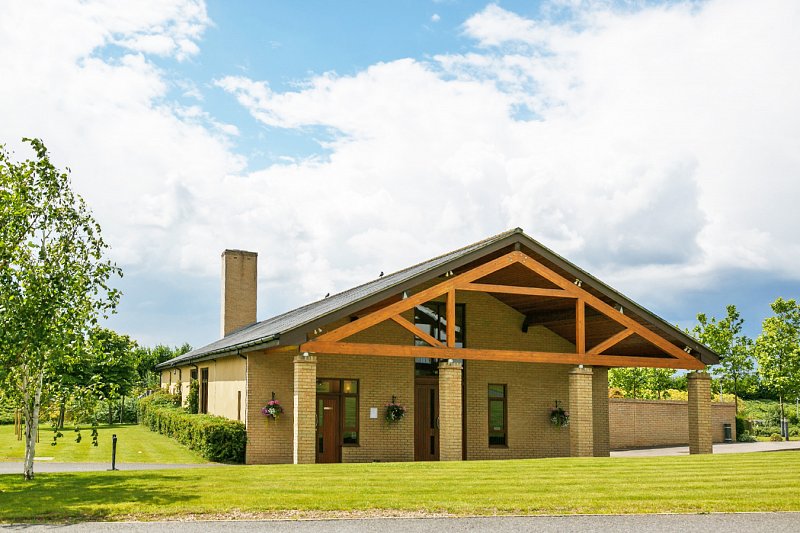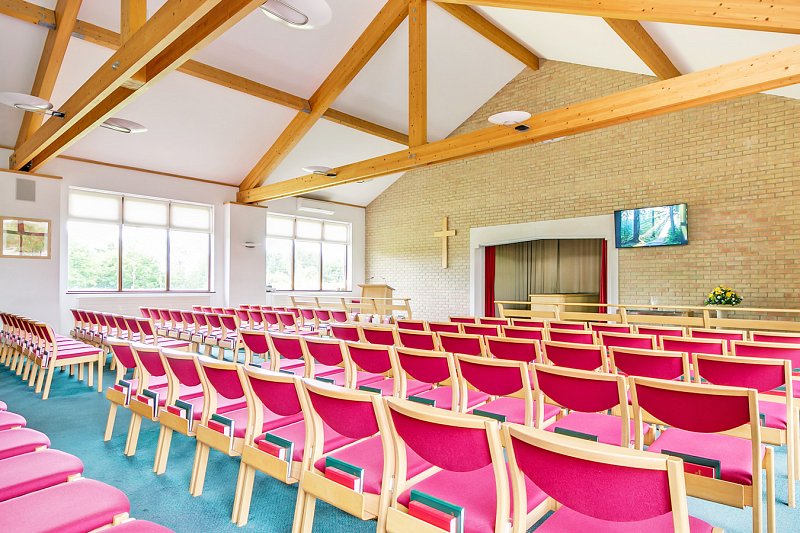 Bentley Crematorium is a delightful place.  Situated just outside of Brentwood town centre on the Ongar Road, it has only been there for about 4 years and does not look like your typical crematorium building – especially as it's all in white.  The grounds are beautiful and peaceful with a fountain and pond near to the car park.  Bentley has one chapel which is decorated in a light pastel green, and also benefits from lovely natural light owing to its glass pyramid ceiling.  The picture of Bentley Crematorium below was taken by me.
Chelmsford Crematorium is another in the County, and comprises of 2 chapels; North and South.  The North Chapel is very intimate, whilst the South Chapel can seat a much larger number.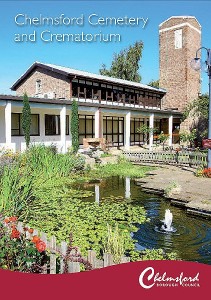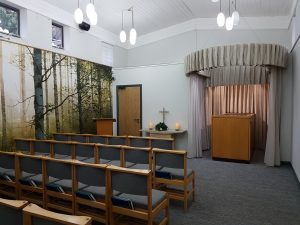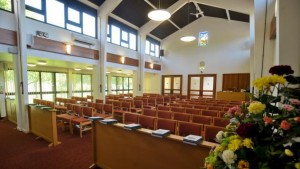 There are many crematoria in Essex, East/North London and Hertfordshire, and so it is impossible for me to list them all here, with pictures. Some of those which I lead services at though are:
Basildon Crematorium, which can be found here.
Parndon Wood Crematorium, which can be found here.
Bentley Crematorium, Brentwood, which can be found here.
Southend Crematorium,  which can be found here.
Enfield Crematorium, North London/Hertfordshire (no website or link available).
City of London Cemetery & Crematorium (no website or link available)
East London Cemetery & Crematorium (no website or link available)
Woollensbrook Crematorium, Hoddesden, Hertfordshire, which can be found here.
Colchester Crematorium (no website or line available).
Manor Park Crematorium, East London, which can be found here.
And this list is definitely not exhaustive.  A Funeral Celebrant can work at any crematorium or venue.
Other Venues
We are really lucky to have some lovely Woodland Burial sites in Essex.  The stunning Herongate Wood situated between Billericay and Brentwood, is just one of them.  This place is simply stunning – just off of the A127 & A128 you wouldn't think it was anywhere near a main road.  The ducks from the pond are so friendly, they even venture into the staff office.  This venue also offers the opportunity for families to have the entire Funeral service outdoors, behind the Hall of Remembrance, which is just beautiful and offers a refreshing alternative  (weather permitting) to having the service inside.  I've been lucky enough to lead one such service there and have seen how positively this impacts on people.  Herongate Wood also incorporates a full Funeral Director company, so help is always close at hand.
Epping Forest Woodland Burial Park is another beautiful place – the pictures below are my own, and you can also find more information about them here.  It is an absolutely beautiful place to walk around. Not only can loved ones be buried here, but there are also ash scattering areas if the cremation has taken place elsewhere.  You can walk for miles here, and feel extremely at peace in the park.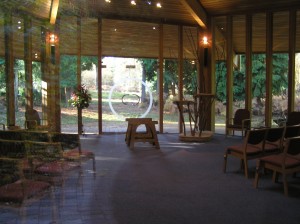 Even looking away from a funeral (or memorial service) held in a crematorium or at the graveside, or even a woodland burial park, it is possible to have a funeral in almost any suitable space, provided the owner gives their consent. This may be an option to consider before moving on to a crematorium later for a short committal ceremony.