I would love to hear from you!  Please contact me if you would like to discuss a Ceremony I can help you with.
Paul Donne
49 Cross Road
Romford
Essex
RM7 8AU
Tel: 07804 946336
E-mail:  paul@thetallpine.com
Web:  www.thetallpine.com 
Facebook:  The Tall Pine:  Paul Donne – Funeral Celebrant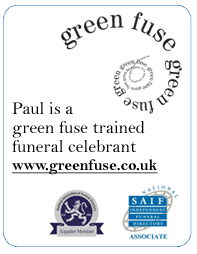 My Fees
My fees are charged direct to your chosen Funeral Director. They will only be charged direct to you, where applicable.  A modest extra fee may be charged for significant travelling, or a Funeral which takes place on Saturday.
Standard Length Ceremony (Cremation or Burial):                   £210.00
Ceremony with an Extra Time Slot:                                              £240.00
Scattering / Interring of ashes
(not linked to a Funeral I have already led):    £69.00