I would love to hear from you!  Please contact me if you would like to discuss
a
Ceremony I can help you with.
Paul Donne
49 Cross Road
Romford
Essex
RM7 8AU
Tel: 07804 946336
E-mail:  paul@thetallpine.com
Web:  www.thetallpine.com 
I also post regular updates on Social Media.  You can find my business page, via this link, on  Facebook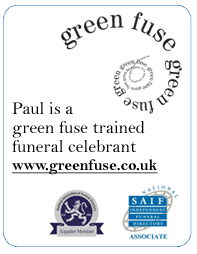 My Fees
My fees for Funeral Services are listed below and are paid to me by your chosen Funeral Director.  They will only be charged direct to you, where applicable.  
An extra fee will be charged for a Funeral which takes place on Saturday or Sunday.
Standard Length Ceremony (Cremation or Burial):                   £220.00
Ceremony with an Extra Time Slot / Double Venue:                  £250.00
Scattering / Interment of Ashes
:    £70.00
I make no charge for Funerals for children under the age of 18.
The above charges include everything we need to do to get the Funeral for your loved one just right:
Travelling to an initial meeting with you and your family; emails, phone calls, drafts and revisions.  I will also help you source music, readings and poetry.  Additionally, I will support anyone who will be speaking, and maintain excellent contact with the Funeral Director and your chosen venue for the Funeral, holding the service for you on the day.