Tall Pine
David Hoffmann
Upon her crystal shores, waves of shimmering light.
Part of a larger symphony, near water's edge.
Under the tall pine, a leaf gently spirals to the ground.
A small note… unheard by most.  A piece of that song.
A myriad of light from so far away…but really not so far,
A glimmer highlights the base of the tall pine.
Blending with the fallen leafs' song,
A neighbours' melody of change.
A different forest; a new time,
Within sounds; a symphony,
Within rhythm; a remembrance,
A note heard only by those who choose to listen.
Touched by a myriad of lights,
Reflecting upon a small leaf,
The sounds blend under the tall pine.
Dancing around the tree, upon crystal shores.
What inspired me to become a Celebrant?
Like most people, my family has had its fair share of loss and grief over the years including infant loss, and also the loss of close relatives and friends. So, naturally, I have also attended many funerals.  There was a turning point in 2010 though, several years after the last funeral I attended where things had felt quite rigid in their structure and it didn't really seem like a fitting farewell for the person we were saying 'goodbye' to.  This funeral all felt different though – it was one where we had choices and, as a family, were held gently throughout the time leading up to the Ceremony and supported on the day.  The beauty of that persons' life: their music, their beliefs – and a funeral at which, feeling fully supported by the Celebrant, I told their story from the heart as everyone affectionately remembered an amazing and courageous lady. That funeral Ceremony was for my beloved Mum – and it was there that my own journey into Funeral Celebrancy began.

I'm now in my early forties, with a career spanning over 27 years in many challenging, people-centered roles in the Public Sector.  I have worked alongside all of our Armed Forces, as well as many others who have, perhaps, been at their most vulnerable or experiencing personally challenging times in a whole range of situations.
I have also lived and worked abroad for almost 8 years, so I, too, am no stranger to being a bit out of my comfort zone.  Largely detached from family and close friends it has, at times, been a real character strengthener! But central to all of this, and the work I have done, has been my own well-rooted desire to help people during these times…it's a theme which runs all through my career. I always place great value on everything I have learned and experienced – whether good or bad – which continually fosters and enriches my skills to listen, be compassionate and also to be deeply caring and creative.
When I'm not engaged in Celebrant related activity I also enjoy travelling, cooking, gardening and am a keen ten-pin bowler, having represented various departments in my Public Service career at National Championship level.
So…Why "The Tall Pine"?
Aside from the poem above which, I think, describes loss, grief and remembrance so beautifully, I love holidaying on the Greek Island of Skiathos. It has a lovely charm about it – a little gem, magnetic and captivating in its own unique ways. During my first visit back in 2014, I happened upon the quiet cemetery from where the first picture was taken.  It's nestled on a rocky outcrop between the old town and the coast, gently shaded by a wealth of tall and fragrant pine trees – an oasis of calm in small, yet tranquil location –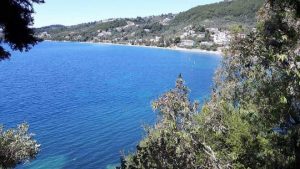 some might say a perfect final resting place.
I had been remembering my dear Mum by lighting a candle and saying a poem at the little chapel/shrine you see below and was completely in my own space when I felt a gentle tap on my shoulder.  Turning to look, I saw a Greek gentleman standing beside me who quietly said 'that was lovely'.
As I explained where I was from and what I had been doing, he just welled up on the spot. I placed my hand gently on his shoulder to comfort him whilst he wiped his tears, then he pointed to a neat grave just a few steps away only to reveal it was his own Mothers' who had died
 just a month before.  
We walked over to it and he asked if I would stand with him to say the poem again…of course, it was my pleasure. After listening to him share some of his memories about his Mother, and a few moments of silence in the shade of the trees, he gave me the biggest hug and thanked me for just being there when he really needed someone.  
Now, every time I holiday on Skiathos, I always take a few moments out to reflect, and also to honor that special bond: two people sharing a moment in a common and uniting grief – which became my inspiration.
 

My First Funeral:  'Always Something there to remind me…'
The first funeral I lead as a Celebrant was for a dear school friend, J – who was just 11 days older than me when he died.  We had known each other and each others' families our whole lives.  J was diagnosed with cancer in 2015, and put up a brave and courageous fight.
In the middle of May 2016, J, who knew I was a Celebrant, messaged me asking if we could meet up as he felt it was important to 'get things down in writing', also asking me if I would lead his Ceremony when the time came. Naturally, although saddened to read that, I said I would absolutely fulfill his wish.  I then went on holiday only to return two weeks later to the news that J had tragically lost his battle, without us having met to discuss his thoughts and wishes.  But…he had told his parents and partner what he wanted.   
Over the coming weeks, I worked together with J's partner, family and friends to create a Ceremony that truly celebrated the great man that J was (and there was a lot to celebrate!) whilst also providing a voice and comfort for the loss felt by all those who knew him.  The sunny Friday afternoon Ceremony saw Forest Park Crematorium packed out with over 170 people uniting in their clearly palpable grief at J's far-too-early farewell.  Being a big music fan though, J had already chosen what he wanted to be played on the day, and one piece 'Always something there to Remind Me' by TinTin Out, featuring Espiritu, was played towards the end of his Ceremony.
Unknowingly, J, had left his own legacy on me through that very song, as I truly believe that no Celebrant ever forgets their first Funeral.  Indeed, there is 'Always something There to Remind Me'.